Royal introduces 'Sand Dune' PVC Column Wraps
Royal Building Products has announced the addition of the first color to their line of PVC Royal Column Wraps. 
"Sand Dune" is a neutral beige tone and is available in Traditional, Craftsman and Contractor styles.
"We saw the need to add a more neutral color option to our line of column wraps to give homes a fresh, coastal look that is both classic and on trend," said Steve Booz, vice president of marketing and product development, Royal Building Products. "Our column wraps, capitals and bases are affordable and easy-to-install over existing porch columns. This is a great product for both pros and experienced DIYers looking to add instant curb appeal to their home's exterior."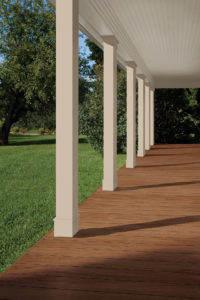 In addition to Sand Dune, the column wraps are available in a ready-to-install white finish that can also be painted with vinyl-safe paint to complement a home's exterior color palette.
Made from cellular PVC, Royal's Column Wraps are resistant to moisture, preventing issues found in traditional wood columns, such as warping, rotting and insect damage. 
Backed by a limited 25-year warranty, Royal's Column Wraps are available in four widths to fit around 4x4, 6x6, 8x8 and 12x12 structural posts, and two standard lengths—8'6" and 10'. Royal has also added a new 12' length available in 6x6, 8x8 and 12x12 column wrap size that is available in white in all styles. 
To ensure the columns are protected during the installation process, the product is wrapped in a protective film that can be removed after installation. These 100% cellular PVC column wraps feature a unique "clam shell" design with three pre-assembled sides that surround the existing post for a seamless appearance. The fourth side is applied to enclose the entire column.
Based in Woodbridge, Ontario, Canada, Royal Building Products is a Westlake Chemical company and manufactures and distributes materials for the home remodeling, building and construction markets.