10/01/2019
Katerra launches KOVA building materials brand
On the heels of opening North America's largest cross-laminated (CLT) timber manufacturing facility, Katerra has launched its official building products brand: KOVA.
According to Katerra, based in Menlo Park, Calif., KOVA will offer trade professionals a curated, cost-effective collection of high-quality products that spans all major categories of finish materials.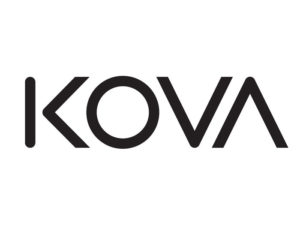 The company said that KOVA's first offering of cohesive, cross-category products provides architects and designers with a complete suite of fully coordinated materials and finishes, including light fixtures, flooring, door and cabinetry hardware, plumbing fixtures for kitchen and bath, window coverings and accessories.
The brand name is derived from the prefix "co-," meaning "together", and the word "va" which translates to "go" in Spanish.
All KOVA elements meet the high environmental and quality standards, such as Cal Green certification across all kitchen and bath faucets and showerheads, Katerra said.
The suite of products is designed for cohesion and balance across the entire living space with flexible palettes available in three designer finish options: Polished Chrome, Satin Nickel and Matte Black.
"As designers and builders specify and order their products, they may go through a lot of different partners for their plumbing, lighting, cabinets, countertops, etc.," said Trevor Schick, head of the KOVA materials business. "KOVA is a one-stop shop where we provide all of these materials at a premium quality and great design, but at a better value and with a quicker turnaround. So, as a developer is looking at what they can do to drive cost down on a project, KOVA is now one of the levers they can pull."
Last month, Katerra officially opened its
high-volume cross-laminated timber (CLT)
factory in Spokane Valley, Wash.
The 270,000-square-foot facility is designed to dramatically increase supplies of CLT, a fully renewable structural building material that sequesters carbon for a building's life and can be used in place of steel and concrete in buildings up to 18 stories.
The factory occupies 29 acres with easy access to rail lines and interstate highways. At full operation, the plant will employ 105 people with an annual manufacturing capacity to provide thousands of apartments, student housing units, and more than 11 million square feet of floors and roofs.