11/10/2019
Big rollout for Makita at STAFDA
Makita U.S.A., Inc. opened the 2019 STAFDA Trade Show with over 25 new tool and power equipment releases, giving users more ways to cut the cord and ditch the gas can.
Makita is exhibiting at the annual Specialty Tools & Fasteners Distributors Association (STAFDA) trade show, being held this week in Nashville, Tenn.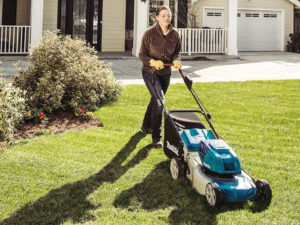 New releases include cordless backpack vacuums with more capacity, powerful new lighting solutions, three new air compressors engineered for quiet operation, a new cordless concrete power cutter, and many more.
Releases also include additions to the LXT System, the world's largest compatible lithium-ion system.
"LXT, the industry's leading cordless system for the professional trades, currently has over 225 products that are meeting the demands of users across a wide range of applications," said Brent Withey, vice president marketing, brand, Makita U.S.A. "Makita's focus is on innovation and new technology with tools and equipment that make life better for professional users. The new products we're announcing at STAFDA will further drive the growth of the LXT System to over 250 products in 2020."
Other products in the big STAFDA launch include trimmers, mowers, blowers, chain saws, and rivet guns.