05/27/2020
Tractor Supply expects huge second quarter
Tractor Supply Company has provided a forecast for its second quarter financial results and the company expects a record-breaking period.
The Brentwood, Tenn.-based farm and ranch retailer said that it expects net sales growth of 24% to 25% with comp store sales increasing 20% to 25%. Operating expenses for the second quarter will be at the high end of its previous guidance range of $30 to $50 million, primarily due to Tractor Supply's response to the COVID-19 crisis, the company said.
The company's financial forecast arrives shortly after an impressive first quarter.  Tractor Supply has remained an essential retailer that has kept its doors open throughout the COVID-19 crisis.
Last month Tractor Supply reported
first quarter 2020 sales
grew 7.5% to $1.96 billion as comp sales rose 4.3% while its net income was up 9% to $83.8 million.
According to Tractor Supply, its e-commerce business has seen substantial growth quarter-to-date with many customers choosing the "buy online, pickup at store" option, along with contactless curbside pickup. The company also said that it is experiencing record sales across all channels, product categories, and regions.
During the second quarter TSC will relaunch its TractorSupply.com site and introduce its first mobile app in June. In April, Tractor Supply expanded its
same-day delivery service
, in partnership with Roadie, to all of its 1,863 U.S. stores. 
"Over the past few months, Tractor Supply has remained focused on our team members, customers and communities," said Hal Lawton, Tractor Supply president and CEO. "We have taken more than 100 actions in response to the COVID-19 pandemic with an emphasis on the health and safety of our team members and customers, while enhancing our capabilities to better serve the essential needs of our customers." 
"Our outlook for record-breaking sales and earnings in the second quarter demonstrates the potential for Tractor Supply to emerge stronger than before as we continue to gain market share and build our business for the future," Lawton added.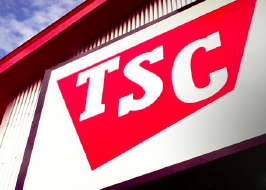 Tractor Supply has also announced wage increases for employees, including appreciation bonuses of $2 per hour for all frontline workers in stores and distribution centers. The increase will be continued through June 27 with store managers receiving an incremental $1,000 bonus.
Additionally, a permanent $1 per hour raise for all hourly employees at the company's near 2,1000 Tractor Supply and Petsense stores, along with its 8 distribution centers, will go into effect on June 28. At the same time, more than 2,000 salaried managers will receive annual restricted stock units, Tractor Supply said.
A new benefit package is also being offered to part-time employees as well, which includes medical, vision, dental, paid sick time and life insurance.  
In total, Tractor Supply said the benefit changes will be approximately $55 million in incremental compensation annually. Tractor Supply has about 33,000 employees. 
Tractor Supply will release its second quarter 2020 financial report on July 23.