Mead Lumber is the 2019 ProDealer of the Year
Get great content like this right in your inbox.
Subscribe
The statistics—44 locations in eight states—hardly begin to describe the diversity and versatility of Columbus, Neb.-based Mead Lumber.

The company makes a living in its lumberyards, hardware stores, home centers, rental centers, countertop facilities, millwork fabrication plants and truss plants. It operates in small towns and major metro areas. It's a big fish in the Do it Best Corp membership rolls; and it operates a handful of Ace stores.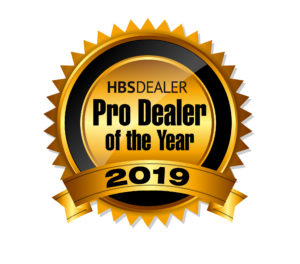 Millwork, check. Truss plants, check. Countertop manufacturing, check. Rental centers, check.

There's an old saying: Don't put all of your eggs in one basket. Financial giants who promote portfolio diversification believe in that old saying; and so does (almost) 110-year old Mead Lumber.

"Heaven forbid if we did just one thing," said Craig Bradshaw, when describing Mead Lumber's wide range of offerings and business specialties. "That might get boring."

Over the decades, the company's diversity evolved naturally, and rose from its core value — in essence, to make sure that the business meets the customers' wants and needs.

For its culture, its growth and its inspiring ability to take on challenges, Mead Lumber is the HBSDealer 2019 ProDealer of the Year. The award is presented by HBSDealer in concert with the National Lumber and Building Material Dealers Association and industry stakeholders. Mead Lumber will accept the prestigious award during an opening night ceremony at the 2019 ProDealer Industry Summit in Colorado Springs, Colo.
 

To better understand Mead, here are three major dates in the company history:

In 1910, Morton Mead and a partner purchased the Pankhurst Lumber Co. in Ashland, Neb. That was the beginning. Interestingly, the Mead family sold their Ashland property in 2012, and donated all of the proceeds to the Ashland Area Foundation.

In 2000, Mead Lumber purchased Knecht Home Centers in Rapid City, S.D. — a move that almost doubled the size of the company. Also during this year, the company began its journey toward full employee ownership, a celebrated milestone that it reached in 2014.

In 2010, Mead celebrated its 100th anniversary. Upon the occasion of this important milestone, Bob Mead, grandson of Morton Mead, had this to say (to the Columbus Telegram): "The main thing that helped us survive the years is that we changed as the markets changed. When we saw a need in the markets we moved in those directions, and here we are 100 years later."

Craig Bradshaw joined Mead Lumber as president in 2006 when it had 21 locations. He took the reins from Bob Mead.

"[Bob Mead] gave me one mantra when he left," Bradshaw told HBSDealer. "He said, 'let's grow the company.'"

And so they did. Mead Lumber has since grown to 44 locations in Colorado, Iowa, Kansas, Montana, Nebraska, Oklahoma, South Dakota and Wyoming. The roll call of banners includes Mead and Knecht, and also Truss Craft Structural Components, Black Hills Truss & Components, Great Plains Countertops and Farm & Ranch Building Supply, among others.

In 2018, the company acquired Munn Lumber expanding its geography with a major player in the Iowa LBM market. Like most of its acquisitions, Mead saw no reason to change the brand, which is actually older than Mead.

"As we've grown, sometimes we've strategically gone places," he said. "And sometimes it's just been because there's been an opportunity to move forward. There was a time when we did not have any manufacturing capabilities. We now have four truss plants. We manufacture countertops in a location. We love that value-added prospect of the manufacturing side of our business."

The company's diversity can be a challenge to manage, requiring extraordinary communication and commitment. ("When I first came to the company, I thought, 'this is a monster to manage all these different businesses.'" said Bradshaw.) But the payoff is worth it, providing protection from the ups and downs of building industry business cycles. And of course, new businesses bring new growth opportunities.

Jake Lentfer, who rose through the company's management training program, has a front row seat on some of these growth programs —from installed services at various locations to garage doors to wall panels.

"When we take something new on, we roll into it slowly," said Lentfer, a Manhattan, Kan.-based regional manager for Kansas and Oklahoma. "We find its strengths and weaknesses, and hopefully get to those strengths as quickly as humanly possible."

Growth is a major component of the company culture, along with the feeling of family, Lentfer said. "Even though we're a big company, we still do have the personal relationships with everybody and that still means a lot."

"They are certainly a great organization, well run and very actively pursuing growth," said Gary Nackers, of Fort Wayne, Ind.-based Do it Best Corp., Mead's major distributor. "They are in many different-sized markets with different customer needs, and they seem to be doing really well — even in the smaller markets."

And according to Bradshaw, the ProDealer of the Year award belongs to the entire family.

"I think the key is our employee owners and their commitment to each other, to our customers and to our vendors," he said. "I think everybody's going to say that, but we really believe that makes us different, because we have ownership. It's our company. We think that it's our people who differentiate us out in the marketplace."