Pony Jorgensen tells its story
Pony Jorgensen the Saddle Brook, N.J.-based maker of Jorgensen handscrew and Pony pipe clamp fixtures, has introduced a new premium 44-page catalog that showcases the full line of Pony Jorgensen clamps. 
The product catalog serves as a visual sales support tool, providing sellers with the information necessary to knowledgeably promote Pony Jorgensen clamps to consumers.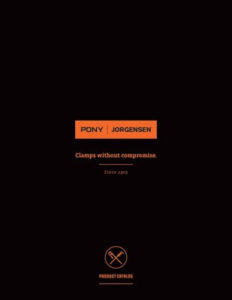 The catalog features detailed product descriptions, pictures, dimensions and technical information on the entire Pony Jorgensen collection of products, including bar clamps, C-clamps, pipe clamp fixtures, and spring clamps, to help customers select the products that best fit their needs in a simple-to-view catalog.  The catalog is available in two easy-to-use formats, a downloadable PDF and traditional print version.
"Making high quality clamps is our passion, and clamping tools are the only products Pony Jorgensen makes – in fact, we are the only brand to do so for more than a century," said Bill Sokol, vice president of marketing.. "With the user-friendly website and new product catalog, Pony Jorgensen has reemerged in the market with a deep heritage and unrelenting commitment to quality."
Pony Jorgensen clamps are ideal for use in woodworking, cabinetmaking, carpentry and metalworking projects. The clamps are designed for light-duty, medium-duty and heavy-duty use and meet the clamping needs of professional, commercial, industrial, and DIY woodworkers alike.
The manufacturer is part of Hangzhou GreatStar Industrial Company and operated by Arrow Fastener. Pony Jorgensen officially relaunched in the North American marketplace in late 2018.