10/06/2019
True Value builds business in Chicago
Chicago – A recurring message of "think differently" and a Reunion slogan of "
Built for This
" weaved through the True Value Hardware general session here on Friday, reaching an historic highpoint with a highlight of Foster Farrar True Value of Northampton, Mass. -- recognized as the longest continually operating hardware store in the country. The store dates back to 1796.
"Clearly, they've had to think differently over the years, changing with the times to remain relevant," said CEO John Hartmann, shouting out to co-owners Karel Rescia and Paul Czapienski in the McCormick Place theater.
True Value's effort to think differently hit on a number of ideas, according to presentations at the general session, including the big-ticket idea of supply chain reinvention that involves a $100-million plus  investment in a new, 1 million-sq.-ft. Northeast distribution center. Other keys include pricing strategies, local marketing and field-staff sales organization.
The marquee item seemed to be the
new Wilkes-Barre, Pa. distribution center
. According to Lyndsi Lee, VP of supply chain, the new center will build on what the company learned in the Midwest about its hub-and-spoke system – a system that essentially keeps high-moving items centralized to speed-up delivery.
"The Midwest hub-and-spoke distribution model we launched last November is specifically designed to address capacity issues and to improve our product fulfillment and delivery experience," she said. "And it's working."
She pointed to average fill rates in the Midwest in excess of 99%.
Added Jim Harrington, VP of supply chain operations, benefits of the one million sq. ft. Wilkes-Barre facility will be felt across the country, due to the region's high volume – 40% of sales flow through the Northeast. "It will house the broadest and deepest volume of inventory across the network , and set the new gold standard for how all our [regional distribution centers> will serve you and your stores going forward," Harrington said.
Meanwhile, True Value is building on its marketing in an extremely local fashion, said David Elliott, senior VP of marketing. He pointed to two new major capabilities for digital marketing. First, a roll out of local web sites replacing existing sites by the end of the year. And also, local e-commerce, a program ready to launch right now.
"You can now choose which items, categories, brands and services you want to promote," Elliott said, describing a marketing system that is "proudly local."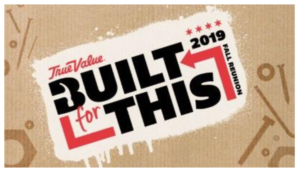 The general session also highlighted "significant upgrades" in the internal store-level retail tool called "Netwarehouse," providing product information in the aisles, and elsewhere. The theater spontaneously applauded the announcement from John Armbrecht, divisional VP of technology, that Netwarehouse search functionality has been improved with a "state of the art artificial intelligence engine," that continually fine tunes results.
CEO John Hartmann shared some pride in the company's internal survey scores, which declined during the ACON Investments sale and the company conversion from a co-op to a distributor, but have rebounded to new heights in the second quarter of 2019.
"These are longstanding measurements the company has used to understand you – our customers," Hartmann said. "There's no surprise that during and after the transaction the ambiguity caused a decline in your sentiment, and while we'll never stop striving, we're very happy to see your satisfaction is higher than it was prior to 2017."
The company's Chicago Reunion drew to a close on Oct. 6. For its next Reunion, True Value is heading to New Orleans Feb. 13-16.