Renewal and expansion for BLDRS Supply & Home Center
Get great content like this right in your inbox.
Subscribe
BLDRS Supply & Home Center continues to make a steady stream of improvements and upgrades while providing dedicated service to the community they love to do business in.
Located in Trinidad, Colo., roughly 90 miles south of Pueblo, Colo. and 195 miles north of Santa Fe, N.M., BLDRS' market area is an approximate 60-mile radius. With predominately rural communities surrounding the city, the biggest box store is located roughly an hour and a half drive north.
HBSDealer has selected BLDRS Supply & Home Center as the 2019 'Independent ProDealer of the Year.' The annual award, chosen by editors of HBSDealer in concert with the National Lumber and Building Material Dealers Association, is designed to recognize a high-performance company with a commitment to best practices and the best values of the lumber and building material industry. "There's a real sense of community pride at BLDRS," said Dena Cordova Jack, executive vice president of the Mountain States Lumber & Building Material Dealers Association. "They operate in a small, historic town; they're investing in their community; and they have figured out how to make it work."
A key component to how it works is the team at BLDRS.
"Our employees take great pride in their work, and love being surrounded by such an amazing team of professionals," says Karen Sandbeck, president of BLDRS. "We really concentrate on excellent customer service because it drives repeat business to the store. We have a great mix of employees and, fortunately, have very little turnover."
That includes employees who specialize in distinct departments, including electrical, plumbing, hardware and paint, among other categories. The dealer also keeps its 18 employees up to date on the latest information and training.
For instance, employees have attended Stihl equipment repair classes and blueprint and estimating courses provided by the Mountain States Lumber & Building Material Dealers Association.
"We feel that it's important for our employees to spend time on continuing education for what they feel passionate about," Sandbeck explains.
When Sandbeck and her husband Cal purchased the business in 2017 from her brother Scott Sandlin, "it was an opportunity to inject a breath of fresh air into the company," she says.
Sandlin, with more than 30 years of experience in the industry — not including sweeping floors during his summers as a teenager — continues to serve as general manager at the company.
After the purchase, a process of re-branding took place, complete with a new name: BLDRS Supply & Home Center. A new logo and new signage appeared on the building and delivery trucks. The move created excitement in the community and communicated that something special was happening, Sandbeck says.
An infusion of capital from the purchase also allowed the dealer to expand its product mix and hire new talent. Among its list of credentials, BLDRs is one of the Top 20 independent paint dealers in the nation for Valspar.
Other moves included an aggressive marketing campaign, a new website and a new emphasis on community events, including an annual 4-H auction. The dealer supports area non-profits and churches as well as the local arts and entertainment scene. A new customer loyalty program and smartphone app are being developed to appeal to a new generation of customers.
BLDRS is currently undergoing a complete store remodel, which will increase its interior retail space by almost 1,600 square feet and provide a new floorplan for better merchandise placement and customer flow. Orgill assisted in planning the new floor design of the store. Updates on the remodeling process are being shared
via social media
.
"We have had several businesses in the past including fast food franchises," said Cal Sandbeck. "One of the things we have learned is that when a remodel takes place, it has an impact on sales. By undergoing a remodel, it has the potential to increase sales by 12% on average."
The company's history goes back to 1912 as the Southern Colorado Lumber Company. Trinidad's community was growing during this period, not only as a stop along the historic Santa Fe Trail, but also with the thriving coal mining industry.
A third generation, family-owned business, the company was started with Sandbeck's grandfather, Carmen Allen, and her father, Ed Sandlin. They purchased Cash & Carry Lumberyard in Trinidad in 1964, and renamed it Trinidad Builders Supply.
Ed Sandlin served on the Board of Directors for MSLBMDA and was president in 1986-1987.
"We are fortunate to have had his level of leadership to emulate in this business," Sandbeck says.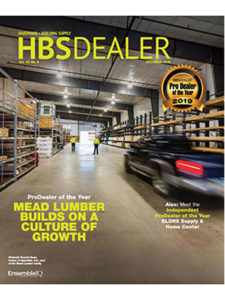 The business moved to its present location at 108 West Colorado Ave. into a remodeled building previously used as the local Safeway store. This new location allowed for the expansion of the business into more interior retail space for hardware, plumbing, and electrical products.
Scott Sandlin took over ownership of the company in 1994 upon his father's retirement and managed Trinidad Builders Supply until it was purchased in 2017.   When it comes to BLDRS' customer base, it's about a 60-40-split between pros and DIYers, according to Sandlin.
Sandlin takes pride on serving all of them with quality and fair prices.
"I don't have any problem going up against big box stores," he said. "People are always surprised when I give them a list back and beat their prices. "I know that it's no surprise to me."
###The Indie Awards
BLDRS Supply is latest in a long line of high-performing companies to earn the Independent ProDealer of the Year award. Here are the most recent winners:


2018 CHIC Lumber, Warrenton, Mo.


2017 Millard Lumber, Omaha, Neb.


2016 Healdsburg Lumber, Healdsburg, Calif.


2015 Holmes Building Materials, Baton Rouge, La.


2014 S.W. Collins Co., Caribou, Maine


2013 Pat Thorne Lumber, Chillicothe, Mo.


2010 Forge Lumber, Erlanger, Ky.


2009 Home Lumber Co., Bishop, Calif.


2008 Keim Lumber, Charm, Ohio


2007 Fairfax Lumber, Fairfax, Calif.


Editor's Note: This article originally appeared in the October 2019 edition of HBSDealer.