Product Central: Ply Gem Solar Defense Siding
Building products manufacturers continue to create the latest solutions for new construction, additions and renovations. And with a labor shortage impacting builders and remodelers, particularly on the side of single-family home construction, producers of new products are taking notice.
Below, HBSDealer has assembled an array of what's new, improved or reinvented in the world of building products, including siding, fasteners and doors, etc.
The latest new building products include features that make it easier and quicker for pros to install. There are also more than a few examples of color and clean, sleek designs among the latest LBM wares.
Here is one notable selection from 
HBSDealer
's monthly roundup: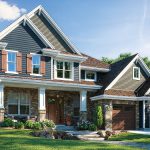 Ply Gem Solar Defense Siding
Ply Gem Solar Defense reflective technology is available on select vinyl siding lines from Mastic by Ply Gem. Solar Defense provides protection from UV rays, while increasing curb appeal. This vinyl protection technology is an advancement to the existing patent-pending formulation that shields the darkest vinyl siding colors from the sun with advanced light-reflecting properties and a strong heat-resistant base layer.

—
Check out the rest of 
HBSDealer
's roundup of building products in the 
June issue
 of 
HBSDealer 
magazine.