New Field Station jobsite storage from Knaack
Knaack, the job storage equipment specialist, has introduced the new Field Station 119-02 jobsite box.
Equipped with PowerPass and built-in grommet electric cord pass through, the Field Station 119-02 makes it convenient to provide power inside the jobsite box. Redesigned from the ground up, the new field station is ready for any job and features tough security against break-ins along with solid weather resistance.
"We designed the Field Station 119-02 based on feedback from our end-users, incorporating features that matter most on jobsites," said Sang Oh, product manager at KNAACK. "It's more secure than ever, from both inclement weather and theft."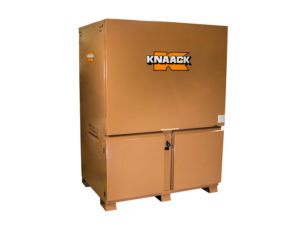 The Knaack Field Station 119-02 jobsite box is built to serve as a central command hub or workstation at large jobsites. Ideal for all contractors, foremen and supervisors, the Field Station 119-02 can be used for various applications including the storage of construction drawings, tools and equipment.
The Knaack Field Station 119-02 jobsite box is equipped with the patented WATCHMAN IV lock system, which is standard throughout the Knaack product line. This system includes dual latching points on the bottom compartment's doors to ensure a tight, invulnerable closure that can be locked down with a single padlock.
The Field Station 119-02 also offers improved weather protection. The Field Station 119-02 jobsite box has a three-sided gutter system that channels water away from the upper compartment. The bottom compartment has a sloped door design and internal gutter system to prevent water from collecting on the edges of the doors or from coming in through the locking mechanism opening. Both the top and bottom compartments are outfitted with automotive-grade weather stripping.
The new design includes a durable and intuitive way to access the top compartment, an independent spring-loaded, solid lock rod latch system for the top compartment, and a pull handle to make it easier to close.
This new Field Station is the only one on the market to offer adjustable shelves in its lower compartment. Inside the top compartment, another fixed shelf and a separate locking compartment allow for flexibility, security, and better organization
Four-way skids made from 7-gauge steel allow the jobsite box to be lifted from any direction, while the side handles are recessed, allowing it to fit in spaces true to its width.
The Field Station 119-02 is also designed for crane lift when outfitted with the optional Knaack 497 Crane Lift Kit accessory.
Knaack, is a WernerCo brand, with its products manufactured in Crystal Lake, Ill.