NADRA, MoistureShield and CAMO promote deck safety
While most construction has remained essential or plans to return to work soon, the North American Deck and Railing Association (NADRA) continues to create awareness for Deck Safety Month in May.
NADRA has partnered with major brands, including MoistureShield decking and National Nail's CAMO fastener brand, as Safety Ambassadors.
According to NADRA, May is the month each year to remind homeowners to "Check Your Deck
"
 before planning family activities.
"With more than 60 million decks in the U.S., we estimate that 30 million decks are past their useful life and need repair or replacement," said Michael Beaudry, executive vice president of NADRA.
These are strong reasons why NADRA, MoistureShield and CAMO encourage homeowners to call on a professional inspector to inspect their decks if they have any concerns. Here are some basic red flags to look for:
Check for any deck board movement that may attribute to instability.
Examine decks for sagging, racking, or unsecured boards that may indicate loose fasteners.
Check the gap between ledger and joist–a widened gap may indicate that bolts need tightening.
Look for raised or corroded fasteners which may compromise the integrity of the deck structurally and on the surface, present a trip hazard or danger to bare feet.
"As part of Oldcastle APG, MoistureShield leads with safety first, in all aspects of how we go to market," said Matthew Bruce, vice president of sales at MoistureShield. "Deck safety extends beyond just our products. Ensuring we support deck building best practices in the field is integral to our success, and the safety of our consumers."
MoistureShield also has inherent safety features in many of its products. To keep homeowners safer, MoistureShield's innovative CoolDeck Technology reduces deck surface temperatures by up to 35% as a solution for decks or docks in direct sunlight.  MoistureShield decking also features slip resistance among composite options, offering homeowners great traction regardless of weather or proximity to water.
Stay-at-home orders in many states have also created a pent-up desire for outdoor spaces
"Homeowners cannot wait to get outdoors to enjoy their existing or new decks," said W. Scott Baker, CEO of National Nail. "Deck Safety Month is the perfect opportunity for pros and their customers to evaluate deck safety. We also encourage contractors to stay safe with proper PPE and social distancing as they get back to building."
CAMO offers several products that support safety and smaller crews with one- or two-person installation. Plus, when used in combination, they can help contractors build decks up to five-times faster.
CAMO Edge Fastening for square edge boards creates strong connections into the joists as the proprietary screws are driven into the edge of the board on both sides for more stability. The unique CAMO EDGE and EDGEX Clip for grooved boards offer easy installation. Both products leave a smooth, fastener-free surface that saves feet from popped screw heads that can also get blazing hot in the sun.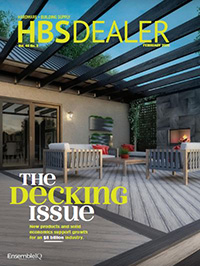 These methods are made even faster by the CAMO DRIVE Stand-Up tool, a lightning-fast way to drive them in while on your feet. And, the newest member of the CAMO Innovation family,
the CAMO LEVER
, can straighten, lock-in, and align any deck board on any joist with one easy turn, enabling smaller crews to handle bigger jobs.
NADRA's free "10-Point Consumer Safety Checklist" and additional safety awareness information can be found at 
nadra.org/deck-safety.
Also, check out HBSDealer's
2020 Decking Issue
featuring the latest decking and railing products.