Makita backs up the power
Makita U.S.A., Inc. has introduced a power supply solution for demanding power tools and equipment.
The Makita 18V LXT and LXT X2 (36V) Portable Backpack Power Supply (PDC01) utilizes four LXT lithium-ion batteries to provide extended run time.
The backpack provides quadruple the run time when used with Makita 18V LXT Cordless Products and double the run time when used with Makita 18V X2 LXT (36V) Cordless Products. The backpack is ideal for cordless outdoor power equipment and high-draw tools such as rotary hammers and grinders.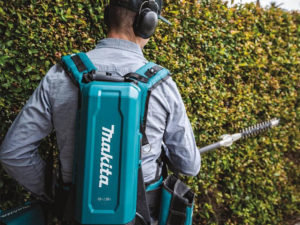 By utilizing up to four fast-charging 18V LXT Batteries that can be removed and replaced, the PDC01 is unique among battery backpacks on the market today. This eliminates downtime and increases productivity.
"Other battery backpacks provide extended run time, but once the big battery is depleted, users have to take off the backpack and charge it up, stopping work sometimes for hours at a time," said Romique Talton, senior product manager, outdoor power equipment. "With the Makita battery backpack, depleted batteries can quickly be removed and replaced with fully charged batteries, so there's no downtime. And it uses the same fast-charging batteries that power over 250 different Makita tools, power equipment, lighting solutions, and more."
The PDC01 is equipped with smart technology that searches between trigger pulls for the most optimal battery or batteries that will provide the most efficient power to the tool.
The backpack features durable housing with a base that allows the product to stand upright. It features Extreme Protection Technology (XPT) for improved dust and water resistance to operate in harsh conditions. An adjustable ergonomic harness provides operator comfort when in use. The harness can be detached for use as a stationary power supply with an integrated carry handle for convenience.