06/10/2019
Lowe's reveals hottest large appliance trends
Lowe's has revealed customer shopping trends when it came to appliance sales in 2018.
Customers bought nearly 2.8 million refrigerators from Lowe's in 2018 and more than 47% of those were stainless steel. This marks a 6.2% increase in stainless steel refrigerator sales at Lowe's since 2013.
About 28.5% of Lowe's refrigerator sales in 2018 were white refrigerators, down 13.7% since 2013, while 23.9% of customers purchasing a fridge chose black – a 7.5% increase from 2013.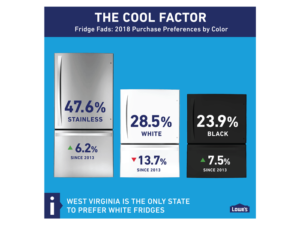 Lowe's said that black finishes are becoming a big trend among customers. It's the fastest growing color, with options like black stainless steel, black matte and black slate, according to the Mooresville, N.C.-based home improvement retailer.
"Black stainless is chic and stylish and is great for playing up the contrast in a black and white kitchen. Keep an eye out for matte stainless- the slate color pairs beautifully with natural wood or white cabinets and adds and chic and sophisticated touch," said Caroline Harmon, Lowe's trend expert.
When it came to washing machine sales, top loaders dominate. About 80% of shoppers chose top loaders over front loaders. Lowe's sold about 2.7 million washers in United States last year.
Regarding stoves, just eight states purchased more gas stoves than electric last year, including California, Illinois, Michigan, Nevada, New Jersey, New Mexico, New York and Rhode Island. The other 42 states prefer electric. Lowe's also said that Florida purchased the most stoves in 2018.