Labor savers and job site solutions
As job sites embrace social distancing in the age of the coronavirus, labor-saving products are as important as ever. And the numbers indicate that demand for these kinds of products will continue on the other side of the outbreak.
A labor shortage continued to impact regions of the country before the spread of COVID-19. And in most of the country, residential construction has continued to move forward.
While the future isn't crystal given the crisis, National Association of Home Builders Chief Economist Robert Dietz says there will be plenty of opportunities for employment in construction.
"I know that this is a moment to recruit people into the construction sector, given that activity will grow and we had a labor shortage as we entered 2020," Dietz told HBSDealer.
At the start of this year, the estimated number of job openings declined from 299,000 in January 2019 to 274,000 in January 2020, after reaching a post-Great Recession high of 430,000 in April of last year.
Employment in construction was at a near-sizzle pace in February. Residential construction employment increased by 21,900 in February, after a revised increase of 22,400 in January, according to the Bureau of Labor Statistics. Total construction industry employment (both residential and nonresidential) totaled about 7.6 million in February – an increase of 42,000 as the industry's unemployment rate held at 4%.
Lumber and building material dealers have transitioned to curbside pick-up while emphasizing call-ahead and online ordering during the pandemic. They remain open, and they continue to sell materials.
But in the field new practices are being put into place, including keeping your distance from co-workers. Fewer are having to do more.
Ralph Bruno, CEO of Derby Building Products, says his company's line of Tando exterior cladding products are a strong solution to the labor shortage with one-person installation and lightweight panels. 
"One-person installation also provides physical distancing required on today's job sites due to COVID-19," Bruno says.
Last year, LP began its transformation from LP Building Products to LP Building Solutions to reflect its goal of being the industry's leading building solutions company. The Nashville, Tenn.-based company says its solutions-oriented commitment is reflected in its product designs and training.
For example, LP SmartSide ExpertFinish Trim & Siding is a new prefinished option that features LP's proprietary ExpertFinish Lap. The product eliminates several steps in the building process, including the need for most seam caulking, joint molds or pan flashing at butt joints. The end result is an easier job site installation and, in turn, potential labor savings.
MiTek Services Division supports a company's growth, efficiency, and profitability with technical solutions for the construction industry. The fastener and building solutions provider says it connects businesses with its services team of more than 1,200 engineers, estimators, designers and more who become dedicated resources for the customer.
These resources serve as an extension of a dealer's team – providing them with 2D and 3D drafting, estimating, and rendering capabilities. MiTek says this is an ideal solution for customers who experience resource scarcity.
A lumber yard, for instance, depends on accuracy and speed to address customer needs. Accurate take-offs and bill of materials, as well as job quote turnaround times, can all contribute to time and money saved on a project.
"By using MiTek's tools, an estimator can model a virtual building as it should be framed," said MiTek Customer Development Manager Neil Faulkner. "This model leads to improved accuracy but is also the framework to create quotes in other areas beyond rough framing – from siding to shingles, to insulation, to interior trim. Items affected by the size and shape of a building can be quoted while the estimate is being created."
ZIP System Building Enclosures, from Huber Engineered Woods, was created with the intention of streamlining control barrier needs in roof and wall applications. Reducing material needs and installation steps can positively impact both timelines and bottom lines for construction teams, especially in larger multifamily projects. Introduced in 2006 as the first integrated structural sheathing panel to incorporate a weather-resistive barrier manufactured onto the panel, ZIP System sheathing was a game-changer as an alternative to traditional sheathing and housewrap or underlayment.
"ZIP System building enclosures are designed to meet a need for greater installation efficiency," says Jason Darling, general manager of ZIP System Products. "Our products are engineered to provide multi-functional benefits in structural assemblies. We maintain a rigorous R&D process at Huber with layers of input from building science, engineering and on-the-job research that helps us keep up with needs, like job site time efficiency, as fuel for our product development process.
"We are continuing to hear about labor issues and labor shortages throughout the building community, so we want to make sure we're doing everything we can the make it easier for building teams to do what they do best," Darling added.
Along these lines, HBSDealer has rounded-up some of the latest innovations in the building materials industry. Here is a collection of products, tools and solutions that cut down on labor, material, time and cost:
LP SmartSide Trim & Siding, a durable siding solution made from engineered wood technology, features lighter weights and longer lengths to allow for faster installation. To examine productivity differences between the installation of LP SmartSide siding compared to competitive siding products, LP Building Solutions worked with an independent third party to conduct a time and motion study. Professional installers with varying levels of experience worked together to install each product against the clock, on a layout and specifications typical for a modest two-story house. SmartSide Lap Siding proved to install up to 22% faster than fiber cement lap, according to LP. The study also showcased easier installation with LP SmartSide siding in 16-foot lengths. This length not only provided 33% more siding than the typical 12-foot siding from competitors, but it was also just as easily passed up a story from one installer to another. LPCorp.com
The Strong-Wall site-built portal frame system (PFS) from Simpson Strong-Tie provides designers, engineers, and builders with an easy way to meet code-defined wood wall-bracing requirements when building narrow wall widths. Simple and quick to install, the PFS provides builders with a cost-effective alternative to International Residential Code braced-wall solutions. Available in single-wall and double-wall portal frame kits, the PFS includes hold-down assemblies, standoff and adjustable post bases, multi-ply screws, connector screws, a 6-lobe T40 driver bit, and complete installation instructions. Contractors simply add lumber and assemble. Strongtie.com
Beach House Shake, with the look of authentic cedar shingles, is designed for easy installation. The panelized shake is lightweight and can be installed using just a hammer or nail gun. And one-person installation allows a contractor to beautify a home quickly, allowing homeowners to enjoy the exterior in far less time—and less hassle — than natural cedar shingles. Beach House Shake is also a high-performance product with colors resembling fresh white cedar, stained redwood and various shades of weathered gray. The product remains looking like the day it was installed without upkeep. It won't rot or decay, and is impervious to moisture with Miami-Dade approval for wind resistance in high-velocity hurricane zones. Beachhouseshake.com
CAMO from National Nail has been laser-focused on the labor shortage creating innovative products contractors need to build better decks in less time. The latest innovation from CAMO— the CAMO Lever —not only speeds up decking installations but also reduces the labor contractors need to build a better deck. Lever is the only tool required that easily bends, straightens and aligns deck boards, locking them in place in one turn with no strain, no hassle. When combined with CAMO Edge Clips, Lever speeds up grooved decking installations by locking multiple rows of boards and clips in place for quick fastening. The compact Lever is also strong enough to straighten any warped board. Short on crew members? Not a problem. Lever eliminates the need to have someone holding boards, or a tool, in place. Lay your boards down, lock them in place with Lever and you are free to fasten. Camofasteners.com

Crescent Tools has developed innovations to its new line of pipe wrenches, which are carefully designed to work in the real world that plumbers and pipe fitters live in. Crescent's K9 Angle-Access Jaws bite in an arc of 30 degrees—much greater than typical pipe wrench operation limits—for best-in-class access in tight spaces, the company says. Ideal for professionals in the plumbing, pipe fitter, oil and gas, fire and sprinkler, and MRO industries, the new line boasts 11 products available in both cast iron and aluminum (40% lighter to reduce user fatigue). The high-speed adjustment makes resizing quick and easy, while the steel self-adjusting pipe wrenches feature a ratcheting head for one-handed use. Crescenttool.com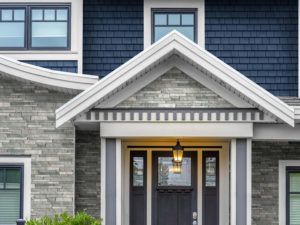 The TandoStone line of composite stone exterior products are promoted as a solution to the labor shortage and job site costs. Preferred by siding installers, TandoStone features realistic design, easy installation, moisture resistance, and expansive color options. TandoStone panels are lightweight allowing for easy, one-person installation. The line was recently expanded with the addition of Nordic Mist, part of the Tando Creek Ledgestone Collection, and Glacier Bay under the brand's Stacked Stone line. Creek Ledgestone emulates the rugged look of hand-picked stone with distinct grout lines, while Stacked Stone features a dry stack profile without grout lines between the stones. TandoBP.com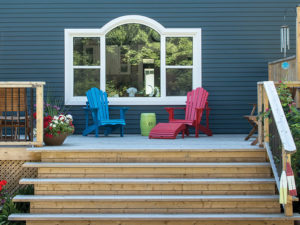 Royal Building Products has added 5" Smooth Clapboard in its lineup of Celect Cellular Composite Siding and Canvas Unpainted Siding. The new siding products feature a smooth brushed finish and the same low-maintenance benefits as traditional Celect products. Available in 15 fade-resistant colors and featuring a patented interlocking seam design, the product keeps moisture out and almost completely eliminates seams. In addition to delivering a smooth exterior aesthetic with distinct shadow lines, all the Celect Smooth products provide labor-saving benefits for the builder, protection and insulation from the elements and reduced maintenance requirements for homeowners. Royalbuildingproducts.com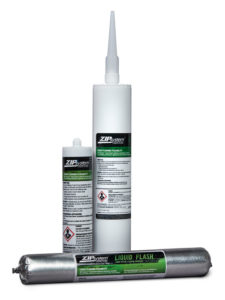 ZIP System Liquid Flash from Huber Engineered Woods is a liquid-applied flashing membrane made of STPE (silyl-terminated-polyether) technology. This high-performance formulation combines the durability of silicones with the toughness of urethanes. Teams and projects with increased energy savings performance in mind have been using ZIP System Liquid Flash not only as a flashing membrane around hard-to-flash windows and penetrations but also in seams and transition areas. The moisture-curing product offers broad application flexibility and provides a continuous air-and-water barrier that some teams are saying gives them even more added confidence of air-and-water tightness. ZIP System Liquid Flash can also be applied to wet surfaces, allowing project teams to keep projects moving even during adverse weather conditions. Huberwood.com
Fortress Building Products' Evolution steel deck framing is promoted as a smarter system designed by deck builders for deck builders. The steel solution is noncombustible, fire-resistant and doesn't rot, warp or split. And, gone are the days of having to soak deck boards with insecticide and fungicide. Evolution features an interlocking joist and ledger system for sturdy, safe decks that are easy to install. The steel deck framing products consist of steel joists that hold their shape for a deck that will stay flat throughout its lifetime. An engineered interlocking design includes a Ledger Bracket that eliminates the need for excessive fasteners and drastically speeds up installation. The system is available with pre-punched, standard spacing options that further simplify deck construction. FortressBP.com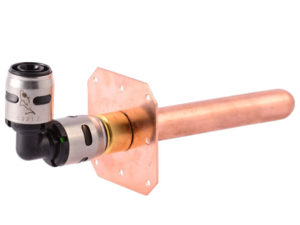 SharkBite's Copper Stub-Out
with integrated cap allows for easy installation during rough-in and immediate pressure testing. Brass machines to PEX dimensions allow for the EvoPEX elbow to connect to the stub-out. Simply cut the bullet and attach the necessary supply stop to finish the installation. A green visual indicator lets you know when PEX tubing is inserted to the proper depth and reduces the risk of installation errors. The product is available with and without a bracket.  
Sharkbite.com
Editor's Note: This article originally appeared in the April 2020 edition of HBSDealer.