Kwikset launches Aura smart lock
Kwikset has introduced Aura, a Bluetooth-enabled smart lock.
Aura provides an affordable entry point for those looking to upgrade to a smart lock with simple programming capabilities through a smartphone, according to Kwikset.
The lock offers homeowners an affordable smart lock that can be programmed and managed from the Kwikset mobile app on compatible smartphones while the homeowner is within Bluetooth range of the lock.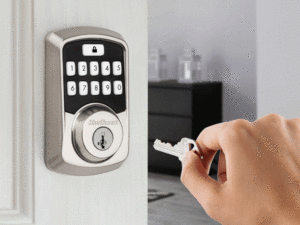 Homeowners can schedule guest access, generate and manage up to 250 user codes, and share lock management with others from the convenience of their smartphone. Aura can be locked and unlocked using the keypad, a traditional key or through the mobile app when within Bluetooth range of the lock.
The lock allows for simple installation and provides security features that are unique to Kwikset deadbolts.
The system also features Kwikset's patented SmartKey Security, which allows homeowners to reset their security by re-keying their locks quickly and easily; rendering lost, loaned or unreturned keys useless.
"Aura is a straightforward smart lock solution for customers who have not yet embraced the idea of a smart home," says Ali Atash, senior product marketing manager for Kwikset. "With both user code and traditional key access, as well as easy programming and simple management capabilities without platform complexities, Aura will appeal to people looking to add style and convenience to their lives at an affordable price."
Based in Orange County, Calif., Kwikset is part of the Hardware & Home Improvement (HHI) division of Spectrum Brands Holdings, Inc.