10/21/2018
ILVE introduces copper trim to ranges
ILVE appliances has announced the addition of copper trim to the Majestic and Nostalgie lines of free standing ranges.
With the introduction of the new finish, designers and consumers can choose between 4 trim options to personalize their cooking appliance.
"Where silver and chrome once reigned as the finish of choice, we are now seeing the emergence of more rose-toned hues that offer a warm aesthetic," said Melissa Haber, vice president of EuroChef USA, the exclusive importer of ILVE appliances. "ILVE's new copper trim blends the natural beauty of subtle pink and gold tones for a sophisticated finish that accentuates the personality of the kitchen."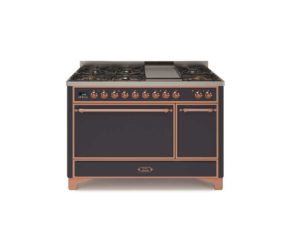 The Majestic series is available in both dual fuel and all gas (30" & 36" only.) The ranges are offered in 5 standard American sizes including 60", 48", 40", 36"and 30" with both single and double oven options available. The line is fully customizable with over 220 colors, 2 door options, 4 trim selections, and 3 leg options.
The Nostalgie series is available in an all gas format and offered in 36", 30" and a compact 24" option. The ranges are available in over 220 colors and four trim selections with a stylish upper handrail and modern tubular feet.
Based in Edgewood, N.J., ILVE appliances are crafted in Italy and made to U.S. market specifications.