Eagle Materials posts big profits in Q4
Get great content like this right in your inbox.
Subscribe
Eagle Materials reported fourth quarter 2020 revenue increased 11% to $315.4 million from revenue of $284.7 million in the fourth quarter 2019.
For the full year, revenue at the Dallas, Texas-based company increased about 4.3%  to $1.45 billion from 2019 revenue of $1.39 billion.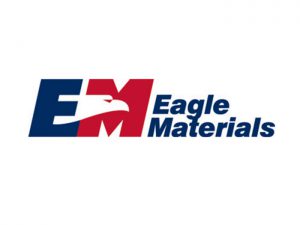 Profits for the fourth quarter jumped as Eagle posted net earnings of $72.4 million as compared to a net loss of $127.8 million for the same period in the prior year. Full year net earnings of $70.9 million marked a 3% increase.
During the quarter, Eagle acquired the assets of Kosmos Cement Company, which includes a plant in Louisville, Ken. with an annual capacity of 1.7 million tons. Eagle reported that it paid $665 million cash for the deal.
Gypsum wallboard and paperboard revenue for the fourth quarter totaled $151.2 million, a 2% decrease, while cement revenue for the quarter  was up 30% to $146.6 million. Concrete and aggregates revenue for the quarter was $39.5 million, an increase of 39%.
Looking ahead, Eagle said it still plans to separate its heavy materials and light materials businesses into two independent, publicly traded corporations by means of a tax-free spin-off to Eagle shareholders. 
The company's heavy materials include cement, concrete and aggregates while its light materials business feature gypsum wallboard and paperboard.
###
The Bottom Line:
Revenue jumps 11% in the fourth quarter to a company record $315.4 million while profits swing to $72.4 million compared to a loss in the  fourth quarter a year ago.
What the CEO said:
"Having achieved record results in fiscal 2020, we entered this crisis period in a strong financial position, and we are taking prudent actions to sustain the financial health of our business," said Michael Haack, president and CEO of Eagle Materials.
"In light of the risks posed by the COVID-19 pandemic and its possible future effects on our business, we are managing our balance sheet and cash flow for stability today and in the future," Haack said. "We are limiting capital spending to critical projects only, managing inventory levels to improve working capital, and taking additional steps such as suspending share repurchases and future dividends to maximize free cashflow. The sale of our concrete and aggregates business in Northern California announced on April 17, coupled with the carryback treatment of our net operating loss, will increase our near-term liquidity considerably."
Company info:
The full fourth quarter and fiscal 2020 report from Eagle Materials is
available here
.