Custom has the right grout and the right color
Custom Building Products, the provider of flooring preparation products and tile and stone installation systems, is locking down its slogan of having the "Right Grout. Right Color. For Any Job."
Custom has introduced eight new grout colors and Polyblend Plus. A subsidiary of Quikrete, Custom will showcase the new designer-inspired colors and upgraded Polyblend product at the International Surface Event in Las Vegas at the Mandalay Bay Convention Center on Jan. 28-30.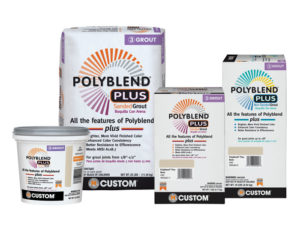 After testing options with designers, installers and homeowners, eight new grout colors were selected: Arctic White, Cool White, Ash, Warm Gray, Shadow, Steel Blue, Coffee Bean, Brown Velvet. With 40 colors available in all of its grouts, Custom said that it provides unlimited design flexibility to handle complex bold tile patterns to classic natural stone installations.
In addition to refreshing its grout palette, Custom said that it has found a way to make its popular grout in North America, Polyblend, "even better."
Polyblend Plus has brighter, enhanced color and is more efflorescence resistant than its predecessor without compromising the durability professionals expect from the proven Polyblend product. Available in sanded and non-sanded versions, Polyblend Plus accommodates joints up to 1/8" (3mm) and meets ANSI A118.7.