04/17/2020
Carter Lumber sticks with the plan
(This article originally appeared in the March 2020 edition of HBSDealer.)
You won't find a master plan hidden away at Carter Lumber with designs at becoming the biggest pro dealer in the nation.
That's not on the agenda.
But the Kent, Ohio-based company has every intention of being the best dealer in the industry through the addition of forward-thinking facilities and upgrades to existing locations.
Recent additions to their footprint have included large, pro-focused facilities in two of the nation's fastest-growing housing markets: Nashville, Tenn., and Raleigh, N.C. The scale of the facilities, their product and service offerings, as well the addition of employees with local market experience, have made Carter Lumber a viable option for builders in these areas.
"We haven't changed our philosophy. Instead, we've stuck to our plan — which is to be the employer of choice and the supplier of choice in every market we service. Our focus is on being great at everything we do because we know that benefits our customer," says Jeff Donley, Carter Lumber president. Despite sagging lumber prices in 2019, sales at Carter Lumber increased 1.5% last year to a company record of $1.504 billion compared to 2018 sales of $1.482 billion.
In 2019, the dealer also made a big expansion move in the Northeast – acquiring six former DuBell Lumber locations in New Jersey. Carter Lumber had the New Jersey locations up and running again within weeks of the acquisition.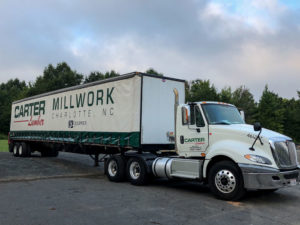 "We had an opportunity to intelligently expand our footprint and we jumped on it. Once we acquired those six locations, it was all hands on deck to get them up and running as fast as we possibly could, and we did just that," said Neil Sackett, chairman and CEO of Carter Lumber. "Everyone who needed to play a part dropped what they were doing and helped. That made a huge impact on the people who had worked for the previous company at those locations and in some ways, it made an even bigger impact on all of the people who went there to help. You can talk about how important teamwork is, over and over, but for so many employees to see it in action firsthand was very special."
Carter Lumber currently operates 163 locations, including 13 component manufacturing facilities covering 95% of its locations. The company also has 10 door and millwork shops where it hangs interior doors and distributes millwork.
"Both the component plants and the door shops are vital to the growth of our pro business in major metropolitan markets," says Donely.
Plans for 2020 include the opening of a new millwork hub and door shop in Hanover, Pa. The location will service the densely populated markets of Baltimore/Washington, D.C., New Jersey, eastern Pennsylvania, and Winchester, Va.
A new design center in Louisville is also planned, with a focus on Carter Lumber's kitchen, bath and millwork products. The design center will be Carter Lumber's first location in the market.
Carter Lumber's expansion and execution in 2019 played out against a backdrop of challenges that struck much of the lumber distribution industry: counter-productive weather, commodity prices, and labor scarcity.
"We knew going into 2019 there was going to be lots of uncertainty," said Donley. "But our game plan was to focus on what you can control. That's it."
A thorn that much of the industry felt last year was commodity prices, which were off substantially in 2019, with the exception of the last few months of the year. Carter Lumber sold 13% more commodities on a per-piece-basis in 2019 than it did in 2018. But revenue decreased by more than 14% on those sales. The company estimates that last year could have been even bigger, but commodity price reduction had a negative $103 million-dollar effect on its top line.
State-of-the-art

The opening of Carter Lumber's Bowling Green, Ky., location in 2019 is an example of the dealer's plan to stay ahead of the competition.
The location features both a component manufacturing plant as well as a millwork hub and door shop, run under the company's Kight brand name. (Carter also operates locations under the Carter Custom Millwork, Carter Components, Carter-Jones Timber, Holmes Lumber, and Kempsville Building Materials banners.)
"We believe this to be the most state-of-the-art truss manufacturing facility in the industry," Donely says of Bowling Green.
In addition to being fully paperless, taking advantage of laser alignment, and automatic puck systems, this facility also has a one-of-a-kind MiTek Ranger retrieval system feeding the operation's saws. Custom made and the largest currently in service, the Ranger system automatically feeds saws the lumber needed for each truss. Once cut, each piece of the truss travels down a conveyor belt where it is fed onto a hopper that queues pieces until the truss builders are ready to arrange them into shape. The lumber is not touched by a human until the truss builder puts it on the table.
"It's an incredible system with amazing capabilities that we're excited to see the full potential of over the course of this year," says Donley.
On top of roof truss manufacturing, the Bowling Green facility can produce floor trusses and wall panels. The other side of the property offers a fully stocked millwork hub with hundreds of profiles geared toward the Nashville, Tenn., western Kentucky, and southern Indiana markets. Not to mention that the door shop at the facility can produce 500 doors each day.
Carter Lumber has been expanding its manufacturing network for the past five years and can provide manufactured products in all of the markets it serves. Plants have been added and upgrades have been made to equipment at existing facilities, which has translated into a faster turnaround time and higher quality products for Carter's customers.
A network of millwork facilities allow even more product offerings for customers. At their Carter Custom Millwork location in Millersburg, Ohio, by combining the latest technology with old-fashioned craftsmanship, Carter Lumber can construct stairs, pre-hung doors, cabinetry, mantels, and custom millwork. Several other millwork facilities are in markets such as Atlanta, Cincinnati, and Charlotte, providing customers with a full selection of millwork and prehung interior doors.
Recently, significant investments have been made into Carter Lumber's kitchen and bath program as well. Many existing design centers have been updated with new products and trends. Several new standalone design centers are now open in key markets, such as Charlotte, N.C.; Nashville, Tenn.; Pittsburgh, Pa.; and Louisville.
Over the past few years, the dealer has focused on growing its team of expert kitchen designers, who help both builders and non-professional customers with designing spaces that are both functional and attractive.
Modern technology excellence

In today's world, you can't make improvements to a business without keeping an eye on technology upgrades. Carter has completed the integration of a dispatch and delivery management software system in most of their markets. Having this visibility allows the dealer to make significant improvements to every aspect of its dispatch and delivery process, as well as providing customers with more timely and accurate information about the delivery.
Carter Lumber also partnered with DadeSystems to use their DadePay service, which allows all locations to deposit check payments in-store via a mobile app. The payments are immediately and automatically applied to a customers' account and relevant invoices. The move eliminated a considerable amount of man hours that had been previously used processing the payments. It reduces DSO (days sales outstanding) and improves cash flow.
Several internal-only smartphone applications have also been developed that allow employees, based on role, to access data and information they need for their jobs.
Carter currently has apps for company announcements, its Yard Rewards program, store contact information, housing data, store parcel imagery and data, among other functions.
"We've found that we can quickly build these apps with little investment to give our decision makers the data they need in their pockets," said Jeff Seder, SVP at Carter Lumber.
In the first quarter of 2020, Carter is launching a service that will allow its customers to pay their Carter Lumber invoices online. The company had already been providing online invoices and statement access. "We've said for a long time that we want to be the best, not the biggest. That mentality guides us every day," says Sackett, whose grandfather, W. E. Carter, co-founded the Carter Jones Lumber Co. in 1932. "It's part of the core of who we are as a company. We don't just use it as a catchphrase at dinner parties."
Building a Labor Solution

With a focus on professional builders and expanding manufacturing capabilities, Carter Lumber continues to grow its installed sales services program. Installed services from Carter allow builders to combine materials and labor in one purchase.
Along with installed and material services estimates, Carter provides delivery scheduling, organizing install teams and accurate billing. Every install job is managed on-site by one of the company's installed sales representatives, who makes sure that the job is done smoothly and correctly.
Specific services offered by Carter vary by market. But virtually all of the pro dealer's major metropolitan markets offer installed services to builder customers.
"We've been building these programs for almost a decade now and across our footprint, and we have a loyal legion of install crews to help our builders," Donely says.
"We're a one-stop-shop for both materials and installation services," Sackett explains. "With our installed sales, customers can combine their materials and labor into one purchase. We have a wide network of vetted subcontractors who make sure quality and safety standards are being met on the jobsite."
Guaranteed pricing, credit options, and flexible billing schedules are part of Carter's installed sales program offerings as well.