04/29/2021
Independent ProDealer of the Year
Inside Dakota County Lumber Co.'s 'Delivered Perfectly" mentality.
Outside sales rep Andy Theirl's office at Dakota County Lumber sits just outside that of second-generation owner Sunny Bowman. Their proximity, along with Theirl's natural ability to look at things from his customers' point of view, means he's usually one of the first in line to vet ideas that come out of the corner office, or fine tune them.
Whatever the idea, from people to packages to pricing, the proof of the company's success always seems to rest in the execution. The 26 employees at the yard operate as if they're aware that their reputation is on the line with each transaction.
"What Sunny tries to instill in us is the 'Delivered Perfectly" mentality," said Theirl, quoting the Farmington, Minn. company's slogan. "A lot of our business is referrals from people who hear about us from our other customers."We're competitive, but we never go out and advertise that we're going to be slashing prices," added Thierl, who at five years on the job is a relative newcomer to the team. "What we advertise is top-notch service. A lot of people have heard that about us, and it usually works out."
Things have generally worked out very well for Dakota County Lumber Co., the 2021 Independent ProDealer of the Year. The award is presented annually by HBSDealer and the National Lumber and Building Material Dealers Association to a yard that shows innovation, high performance and the values of the independent building supply industry.
There are much larger players in the Minneapolis market, but DCL has carved a strong niche. "We've always had competition around us," said Dean Bostrom, yard foreman who has been with the company since 1987. "But I don't think we have ever thought of ourselves as an underdog."
Dakota County Lumber Company is no stranger to accolades, either. A Northwestern Lumber Association Dealer of the Year in 2019, a multiple year "Trillium" winner of Housing First Minnesota; and a 2019 Housing Industry Leader of the Year award — these are among the company's hardware collection.
"Having our team recognized for their hard work and dedication to doing business the right way, especially on the heels of an extremely challenging year, is extremely heartening," said Bowman. "As an all-hands-on-deck operation, like so many other small independent yards, this award belongs to every single member of our incredible team."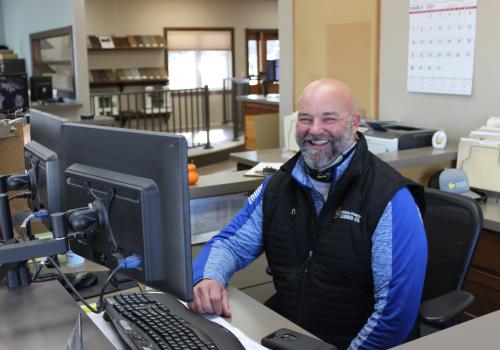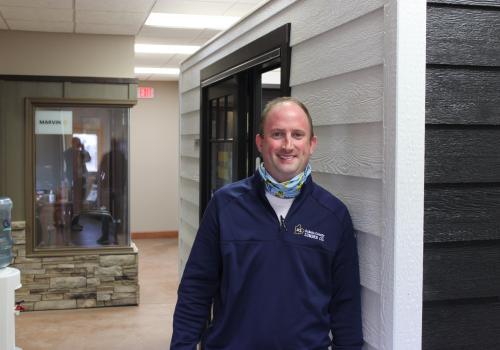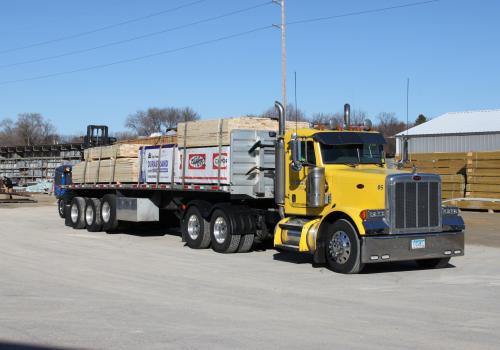 The challenges of 2020 began with confusion over the state's position on the pandemic-induced construction shutdown. Like many businesses throughout the state, DCL went into disaster planning mode and engaged in budget-revision sessions and experienced some sleepless nights. "And then, things just took off," Bowman said. "We kept waiting for the other shoe to drop, and things to slow down, but they just never did."
The company finished the year up about 40% in sales, with a small amount of that growth attributed to commodity inflation. Total sales hit $21.5 million. And early 2021 is up 80% over the pre-pandemic 2020 (before the demand surge).
With an emphasis on specialty products, DCL's business breaks down into three relatively equal parts: deck builders, remodelers and new home construction.
"I think that one of the reasons why we were so fortunate and insulated was because of our diversification into a lot of the specialty products because we found those niches where we could do well."
Case in point: Decking. DCL grew its business by taking a stocking position in some of the decking products and focusing on specific deck builders as they were entering the Twin Cities market. "It just took off, Bowman said. "It was a category in which we could be competitive early on, even as a small yard."
It also played to the company's strengths in communication, delivery and customer service.
Nate Betzold, operations manager, who does the lion's share of the yard's buying (and also sold about $3 million in lumber in 2020) helps manage the decking business, along with Tristan Goblirsch, inside sales. As a small independent, the was able to quickly identify these employee's aptitude toward deck sales — whether its stocking up for demand or talking a customer through a purchase decision.
Other DCL product niches can be seen inside the sales office. Several of the new offices are attractively adorned with LP Smart Side, Boral Versetta Stone and Marvin windows -- many of the same products that the company sells to builders and remodelers.
Looking into the future and considering the overheated housing market and building material allocations and price increases, Bowman expects supply chain reliability will probably be the biggest issue of 2021. "I don't see demand slowing down," she said.
As 2020 resembled a crash course in high-volume operations for the yard, this year marks a concerted effort to take a comprehensive, top to bottom and scientific approach to yard organization. Meetings are underway to consider property acquisitions, a new millwork building among other tactics. Meetings with drivers, yard managers and sales people are designed to come up with a solution, balancing the ideal vs. the economically feasible.
At the Northwest Lumber Association, President Cody Nuernberg recognizes the  company for operating with that hard-to-define extra strength. "From leadership down to the newest hire, the DCL team promotes service, excellence and a team atmosphere (within and with their customers) in everything that they do," he said. "In a market where they may not be the biggest or the flashiest, they have found their niche and have solidified themselves as a player in the LBM space now and for many years to come," he said.
"Delivering lumber is really easy and it's also really difficult," Bowman added. "The fundamentals of it are really easy, just do what you say you're going to do, when you say you're going to do it. And that's what we kind of try and hammer home."