Royal Building Products celebrates 50
Royal Building Products is celebrating 50 years as a leading manufacturer of exterior building products.
The company Woodbridge, Ontario, Canada-based company traces its roots to where it was founded as Royal Plastics in Toronto, Ontario in 1970.
Today, Royal Building Products is the largest extruder of cellular PVC components in North America, where it is known as a leader in design, best-in-class manufacturing and industry-leading innovation in the exterior building products category.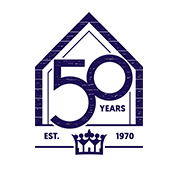 "With 50 years of innovation under our belts, we truly understand the unique challenges of our customers, including contractors, architects and builders," said Steve Booz, vice president, marketing, Royal Building Products. "This milestone demonstrates our commitment to those key stakeholders. They trust us to continue manufacturing the best building products in the industry and are the reason we can confidently look ahead to the next 50 years."
At last month's International Builders' Show (IBS) in Las Vegas, Royal launched Atlas Stone Composite Stone Panels, as well as several new colors in Cedar Renditions and vinyl shakes.
Atlas Stone Composite Stone Panels boast a contemporary stacked profile and selection of neutral to bold shades, making it the perfect exterior element for homes ranging from Ranch to Craftsman to Contemporary. With SandGrit technology, which replicates the texture of real stone, Atlas Stone panels are lightweight, durable and easy to install, demanding very little maintenance.
Atlas Stone is finished with a fade-resistant Kynar coating and able to withstand all weather conditions and climates. The product is backed by Royal's industry-leading 50-year warranty.
At IBS, Royal also featured Celect Canvas Unpainted Cellular Siding, an unpainted version of its cellular composite siding that launched in June 2019. Celect Canvas features the same woodgrain aesthetics and low-maintenance benefits of the prefinished cellular siding offering, plus the ability to customize the color using thousands of exterior vinyl-safe paint shades that fall within the recommended light reflectance (LRV) rating of 50 and above.
Celect Canvas is available in 7" Clapboard, Board & Batten and 7" Shake. All Celect Cellular Siding offerings feature a patented interlocking seam design, which keeps moisture out and virtually eliminates seams.
Launched to the U.S. market in 2019, the Cedar Renditions Design Series is a sleek and modern accent siding, providing exceptional curb appeal without the maintenance or flammability issues of wood. LEED compliant and 100% recyclable, the Design Series combines durable, thicker gauge aluminum, wider board contemporary wood aesthetics and streamlined looks.
In 2020, Royal has added a new premium color, Grey Oak, and a new traditional color, Spanish Moss, to its 6" Cedar Renditions Design Series aluminum siding profiles available in the U.S.
Royal also launched new Zuri Fascia boards in 8" and 12" profiles to complement its Zuri Premium Decking line. Zuri Premium Decking combines the natural beauty of exotic hardwood with durability and exceptionally low maintenance requirements. The product is available in Square Boards and in Grooved Boards, which offer a truly hidden fastener application with pre-threaded screws for fast installation. Zuri Grooved Boards are offered with a 3/32" spacing or a 3/16" gap.
All of the Zuri products are available in Chestnut, Walnut, Pecan, Brazilia and Weathered Gray, and are backed by a 25-year Color Fastness Warranty against color shifting.
Royal Building Products, a subsidiary of Westlake Chemical company, manufactures and distributes materials for the home remodeling, building and construction markets. The company maintains operations in the both Canada and the United States.