11/08/2018
Trex tackles the affordability issue
Trex Company has affordability in mind.
The composite decking manufacturer has re-engineered and expanded its line of Trex Enhance decking with pricing designed to put the pressure on treated lumber.
"We have reimagined and re-engineered our Enhance line to introduce – across both the pro and retail channels – a premium quality, low-maintenance decking option for budget-minded homeowners who may have previously eliminated composite from consideration due to price," said Adam Zambanini, president of Trex Residential Products at Trex Company. "We look forward to making the Trex brand and product benefits accessible to an even broader audience, while continuing to drive increased demand and conversion from wood."
The updated Enhance decking collection is part of Trex's 'good, better, best' decking line-up that allows consumers to choose a product to meet their needs, all backed by a 25-year limited residential and Fade & Stain warranties.
Differentiating the new Enhance line-up is a scalloped profile that is lighter weight for easier handling and installation. This innovative design also contributes to its lower price. The new products will be available at lumberyards and major retailers, Trex said.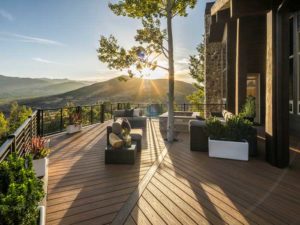 Enhance Basics offers the performance and beauty of Trex in 3 proven and popular shades – Clam Shell, Beach Dune, and Saddle – featuring realistic grain patterns. Offering all the benefits of composite, this collection is ideal for DIYers and would-be wood deck builders with affordability that narrows the price gap between composites and wood.
Enhance Naturals introduces 5 contemporary, multi-tonal hues that resemble the streaked looks of natural wood. The new shades of Foggy Wharf, Rocky Harbor, Toasted Sand, Coastal Bluff, and Sunset Cove feature the authentic charm and color variations of wood, without the hassles of ongoing maintenance and upkeep. Just like Enhance Basics, Enhance Naturals won't rot, warp, crack or splinter, and maintenance is hassle-free. Spills wash off easily with just soap and water. Enhance does not requires sanding, staining or painting, and its protective shell defends against severe weather and heavy foot traffic, according to Trex.
For homeowners seeking unparalleled performance and aesthetics, Trex's flagship Transcend collection features 10 premium shades, including 5 monochromatic Earth Tones and five multi-tonal Tropical hues featuring high-definition grain patterns. For 2019, Trex has refreshed the Transcend Earth Tones to be more compatible with its highly popular Tropical offerings, allowing for even greater design flexibility and customization.
"These product enhancements are ideal examples of our drive to continuously improve upon what's already considered the best in the composite decking industry, while bringing the easy maintenance of Trex decking to an incremental audience who would otherwise be building with wood," noted Zambanini.
Additionally, Trex has applied its "make it easy" mantra to what has traditionally been one of the more challenging aspects of deck design – choosing the right railing. To help take the confusion out of the railing selection process, the design team at Trex has curated railing pairings for every shade of Trex decking. Simplifying things even further, the company is now offering 6 of its most popular Transcend railing combinations in packaged kits.